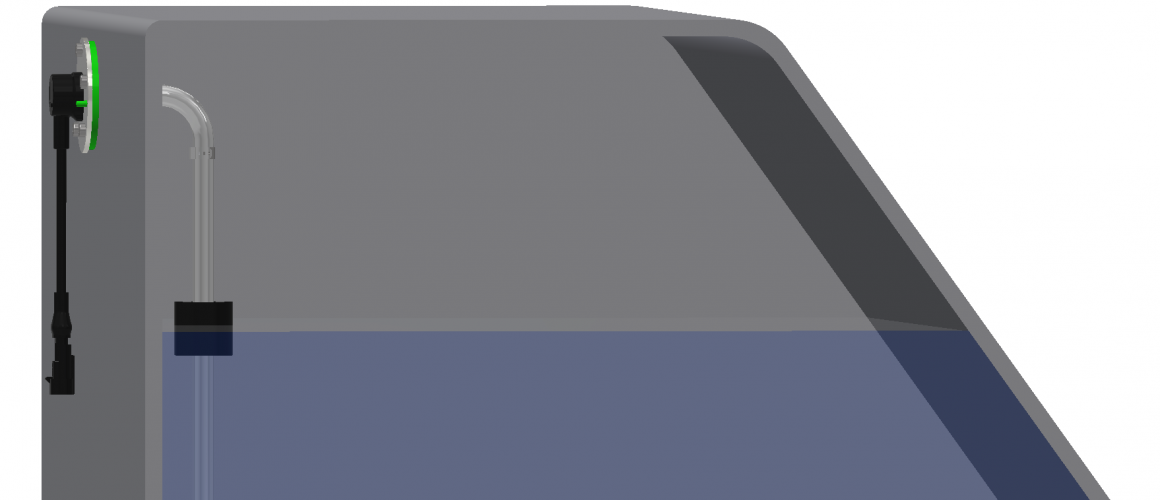 Initial situation
A manufacturer of harvesting vehicles was dissatisfied with the current fuel supply volume on its harvesting machine. The effective operating time of the machine during harvesting was to be increased, for which purpose a new tank with significantly increased volume was to be introduced into the current series. The installation space analysis revealed a theoretically possible increase in tank volume to the desired extent. In addition to the tank filling and various tank connections, the installation situation of the level sensor also had to be fundamentally changed due to the space available. The new space conditions made it impossible to install the level sensor from above as before.

Task
ROAD was commissioned to develop a new sensor mounting option with unchanged technical requirements and taking into account the necessary environmental and safety requirements. The new sensor should be accessible without additional mounting effort on the machine.

Our solution
In close cooperation with our customer, ROAD developed a sensor solution for lateral installation in the fuel tank. The basis for this was the basic design and the tried and tested components from the RE11 sensor series. ROAD realized a sensor that allows lateral installation in the tank due to a 90° angled sensor tube after the mounting flange. In addition, it had to be taken into account that the fuel level rises to above the installation opening and can also remain there permanently.

The result
The new sensor developed by ROAD convinced our customer and was implemented within a few weeks. Thanks to our solution, the customer was able to successfully implement his new fuel tank. The new sensor variant RE11 is installed in the current series and convinces in the application as usual with extraordinary reliability. The installation is carried out with the identical tools and the same fastening material, process changes were not necessary.
Forecast
Due to the success with this project, ROAD is already planning the realization of further variants for side installation. In the future, there will also be variants including fuel connections on the flange (intake and return line) to supply the engine.