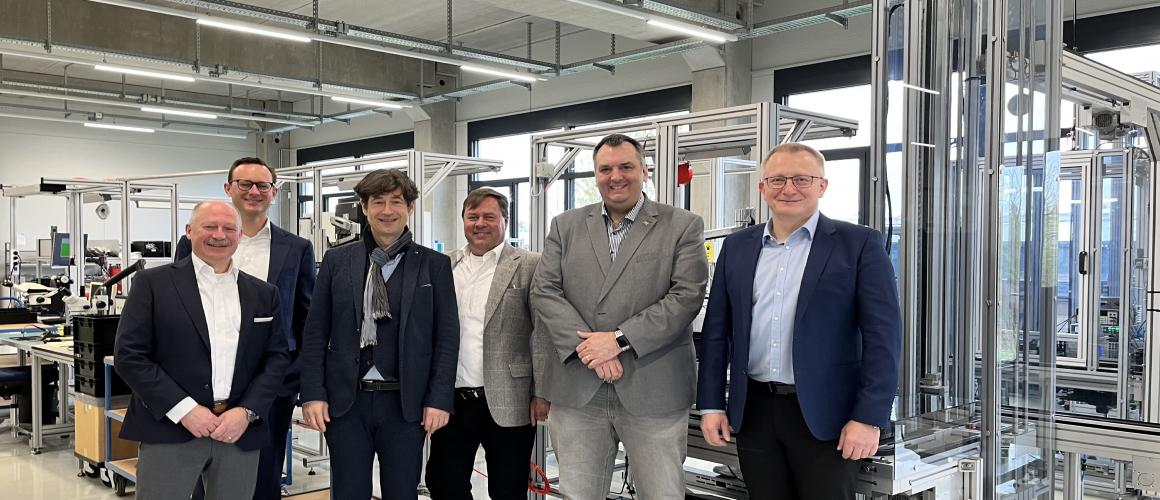 On the occasion of a project meeting of the research association Hydrogen Quality Sensor at ROAD Deutschland GmbH in Bretten, the CDU member of the state parliament Ansgar Mayr informed himself about the current state of research. Mr Mayr, as a member of the working group for transport in the Stuttgart state parliament, personally informed himself on site about the contents of the research work and its progress on the topic of hydrogen quality monitoring. The research project is funded by the State of Baden-Württemberg, Ministry for the Environment, Climate and Energy Management.
ROAD Deutschland GmbH is conducting research in a funded joint project together with Reutlingen University and INOVA Engineering GmbH on a novel technology for mobile, online quality monitoring of hydrogen. The background to this research work is to avoid the potential risk of damage to fuel cells, up to and including total failure, due to contaminated hydrogen. Mobile quality monitoring should safeguard the high investment in a fuel cell and also ensure operational safety. In the research project itself, the currently very costly laboratory diagnostics are to be researched by using novel technologies in an extremely miniaturised hydrogen quality sensor directly on the fuel cell. With the help of this technology, it should be possible to carry out cost-effective quality monitoring either stationary at the filling station or mobile, e.g. on vehicles.
After an intensive exchange about the possible applications of this novel technology in connection with the goals of the Hydrogen Roadmap Baden-Württemberg, the need for continuous quality monitoring was recognised. The research community, although still in a very early phase of development, was able to impressively demonstrate the current state of research live on a practical example. The worldwide developments of applications in connection with hydrogen as an energy carrier are progressing unceasingly, Germany and certainly Baden-Württemberg must not be left behind, there is an opportunity here for technology leadership by small and medium-sized enterprises.  
ROAD Deutschland GmbH is a technology partner of the world's leading top manufacturers of on-road and off-road vehicles, engines as well as agricultural and construction machinery with its headquarters in Bretten. For many years, ROAD has been supplying the industry with sensors for monitoring operating conditions and the quality of liquids or gases, among other things. AdBlue® quality sensors for exhaust gas purification are a main focus.